Fort Worth/ New Jersey, UNITED STATES – September 01, 2021 – Global aviation software provider Ramco Systems announced that it will implement its Aviation M&E MRO Suite V5.9 at Draken International, a leading provider of tactical fighter aircraft for contract adversary air (ADAIR) services to the defense industry, across its global operations in both CONUS and OCONUS locations. Ramco Aviation Software will offer a one-stop solution for managing Draken's global operations as well as a scalable software platform that will support the company's rapid expansion plans.
Ramco's next-gen, Defense/ITAR (International Traffic in Arms Regulations) compliant Aviation Software, will offer Draken modules covering Maintenance, Supply Chain Management, Flight Operations, Safety & Quality, to help in managing diverse training fleet & defense operations seamlessly. The solution will provide a holistic overview of entire operations with its real-time dashboards and analytics, which will help Draken's tactical fighter aircrafts achieve a higher mission readiness rate.
In addition, with its digital enablers like state-of-the-art mobile apps, digital task cards, HUBs, Artificial Intelligence (AI), Dashboards, Ramco will also help Draken in its overall digital transformation journey, thus realizing paperless operations, improving process efficiencies, and reducing costs.
"At Draken, we constantly drive efficiency and innovation to provide our DoD (Department of Defense) customers with the best value. As we looked at our long-term requirements, we identified the need for a tool that could deal with the complexity of multiple aircraft fleets, geographically dispersed sites, future government compliance issues, large workforce quality and training tracking – all in a package which minimized workload and could scale with our global expansion plans. No easy task for a next generation Aviation MRO software package. Ramco Aviation Software was the solution to all our requirements. The one stop solution, offering capabilities to address the demanding requirements of the Defense segment, will help us achieve and maintain high mission readiness befitting our customers. We are happy to embark on a digital transformational journey with Ramco."

Bill Tart, COO, Draken International
Virender Aggarwal, CEO, Ramco Systems, said, "Securing the trust of the top four ADAIR operators in the U.S.A is a landmark achievement, and we are thrilled to achieve this within a short time of entering the Defense Asset Management segment. Our partnership with Draken underscores our experience in implementing solutions for ADAIR operations, and we are excited to be supporting them on their journey of digital transformation."
Ramco Aviation, Aerospace & Defense is trusted by 24,000+ users to manage 4,000+ aircraft globally. Accessible on cloud and mobile, Ramco Aviation & Defense Software continues to innovate with 'Anywhere Apps', significantly reducing transaction time both during aircraft-on-ground (AOG) conditions and critical aircraft turnarounds. Ramco is changing the paradigm of enterprise software with Artificial Intelligence based solutions, powered by cool new features such as digital task cards, offline capability, chatbots, mail bots, HUBs and cognitive solutions. With 80+ Aviation organizations onboard, Ramco is the solution of choice for top heli-operators, leading defense companies, space launch vehicles, UAS/Drones, eVTOL and multiple MROs around the world.
About Draken International:
Draken International headquartered in Lakeland, FL and operations based out of Fort Worth, is world's largest defense adversary air operator. Draken with a fleet of 150 tactical fighter aircraft, owns and operates the world's largest commercial fleet of tactical ex-military aircraft. Draken supports military training objectives around the globe, providing tremendous cost savings over the use of traditional military fighter assets. As an organization, we are uniquely positioned to answer the growing demand for contract air support. Draken performs missions for F-35 JOTT, USAF, USMC, USN, ANG and other international allies.
With a fleet of 27 aircraft and an impressive growth in the region, the airline based in Lagos, Nigeria, quickly became one of the most important airlines on the continent, in 2019 the airlines started transcontinental flights with the popular 777. Furthermore, the operator underwent an ambitious fleet modernization with 13 firm orders for the state-of-the-art E195-E2 (and 17 purchase rights). This will make Air Peace the first operator of the brand new E2 in Africa.
---
The changes that accompany such plans can be overwhelming. From records to processes through technology, everything is subject to evolutions. With this in mind Air Peace initiated a lengthy analysis of specialized ERP solutions that could bring an answer to their needs. The tool needed to be simple to use, robust, specialized in aviation and affordable.AD SOFTWARE sent a team of experts to evaluate AIR PEACE operations and deliver a demonstration of the software. The CAMO module, the MRO features and mobile tools were a perfect fit to what AIR PEACE was looking for. The experience of our team in airline operations made it clear to AIR PEACE that the transition process would be handled by qualified professionals in the most efficient way possible.For AD SOFTWARE it is another great company joining its 65+ customer. With over 16 customers based in Africa AD SOFTWARE confirms its leading position on the continent, providing a cost-efficient solution that is robust and user-friendly.Frederic Ulrich, CEO of ADS OFTWARE, commented: "Being chosen by a company like Air Peace is an honour, we are proud to be part of the future of African aviation with them."
About ADSoftware
ADSoftware is a company based in France and major supplier of MRO software solutions for helicopter and fixed wing operators across the globe. In its 20 years of existence it has steadily increased its user base to over 60 airlines by providing a scalable and cost-efficient solution that is adapted to the complex needs of operators while remaining user-friendly.
Visit https://www.adsoftware.fr/ for more information.
Press Information: c.henner@adsoftware.fr
General Information: c.henner@adsoftware.fr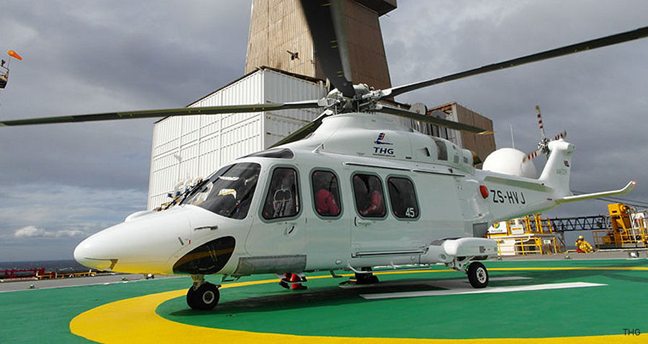 THG ranks as the number one large helicopter group in South Africa, with a diverse clientele including governments, parastatals, oil companies and relieve aid agencies. AD SOFTWARE IT solution supports maintenance and airworthiness via web-based access and mobile devices.
The Titan Helicopter Group of companies, consisting of various licensed operators, approved maintenance organisations and a technical training centre in South Africa, offers a diverse service to the Global Market through a culture of safety and excellence.
Following their decision to overhaul their legacy system THG led an exhaustive campaign to identify the best solution, testing different software in the process. AD SOFTWARE was able to comply with the ambitious time-frame defined by THG by sending a team of A/C data and CAMO experts on-site.
With 16 customers based in Africa and over 600 helicopters supported, AD SOFTWARE asserts its leading position on the market of MRO/CAMO software providers for rotary wing operators. The high ratio of revenues dedicated to R&D plus 20 years of expertise ensures AD SOFTWARE's solutions are efficient and based on modern technologies.
Furthermore, AD SOFTWARE has teamed-up with several of its customers to build tailored solutions with the end-users and regulators in mind. The new modules have a fast time-to-market planning and are designed by aviation professionals. Thanks to these project-focused partnerships AD SOFTWARE is one of the only software providers in the aviation industry able to keep up with the permanent technological advancements.
Frederic Ulrich, CEO of ADS OFTWARE, commented: "We are extremely proud to work with THG. This is without a doubt one of the highlights of 2019 and a validation of our work methodology."
About ADSoftware
AD SOFTWARE is a major supplier of CAMO/MRO software solutions for helicopter and fixed wing operators across the globe. In its 20 years of existence it has steadily increased its user base to over 65 airlines by providing a scalable and cost-efficient solution. AD SOFTWARE is used by OEMs and operators for fleet of 5 to 100 aircraft.
Visit https://www.adsoftware.fr/ for more information.
Press Information: c.henner@adsoftware.fr
General Information: c.henner@adsoftware.fr